Blog / Decoration Methods / Best T-Shirts for Sublimation
Best T-Shirts for Sublimation
Learn about men's, women's, unisex, and children's best T-shirts for sublimation printing made from polyester or polyester blends available at JiffyShirts.
The sublimation printing technique uses gas dyes for detailed, long-lasting designs. The best T-shirts for sublimation have a high percentage of polyester, as the polymers in polyester fibers bond extremely well with sublimation dye. Printing on light-colored T-shirts is ideal, because they don't need a pre-printing treatment like dark shirts do. Discover some of the best T-shirts for sublimation.
1. A4 N3142 Men's Cooling Performance T-Shirt
Made with 100% polyester, this men's cooling performance T-shirt from A4 has the highest possible percentage of polyester for awesome sublimation printing. The silver color is light enough for sublimation, but interesting enough to stand out in a crowd. The ultra-tight knit helps your design show up well. This shirt's cooling features make it ideal for exercise. The fabric wicks away sweat and resists staining and odors, so you can feel confident working up a sweat. Shop for this men's T-shirt here.
2. Port & Company PC380 Unisex Performance Tee
Another 100% polyester option, this lightweight shirt's unisex style flatters just about everyone. The classic white color is perfect for sublimation printing and coordinating with graphics and items in your wardrobe. The soft, breathable fabric has a UPF rating of 50 to protect from the sun's harmful rays, making it a perfect option for outdoor activities. Click through for this Port & Company performance tee.
3. Jerzees 21M Adult Unisex DRI-POWER SPORT T-Shirt
Another great unisex design made entirely of polyester for easy printing, Jerzees created this tee for people on the go. The DRI-POWER SPORT range has powerful moisture-wicking properties to help you stay comfortable when you're sweating it out in the gym or running errands. The 100% polyester fabric is also breathable, antimicrobial, and made to control odors. You'll appreciate the attention to detail on this Jerzees tee. With double-needle stitching on the sleeve, bottom hem, and neck, it's made to last. Its silver color suits sublimation printing and makes a real style statement. Find this sport tee here.
4. Sublivie S1910 Men's Best T-Shirt for Sublimation
Sublivie calls this men's tee a sublimation shirt, so you know it's ideal for this type of printing. It's made from a 100% polyester jersey fabric and sewn with 100% polyester thread. The fabric wicks away moisture and stands up to repeated machine washes and tumble drying on low heat. Its white color provides a great contrast for any sublimation printed design. It also pairs well with your favorite pair of denims or khakis. Shop for this Sublivie tee today.
5. Tultex 0241TC Unisex Poly-Rich Tee
For a classic look, choose this white Tultex tee. The blend of 65% polyester and 35% ring-spun American cotton accepts sublimation dye, although it won't look as solid or vibrant as on a 100% polyester tee. However, on the stark white background, it'll certainly stand out. The dye bonds with the polyester but fades away from the cotton, creating a cool vintage, distressed effect. Double-needle stitching on the sleeves and bottom hem and taping around the neck and shoulders help this tee go the distance. Check out this Tultex tee.
6. Gildan G420 Adult Performance T-Shirt
Gildan has long been one of the most trusted names in T-shirts, and this performance tee doesn't disappoint. It's made from 100% polyester jersey knit, which feels soft against your skin and accepts sublimation dyes, especially in this white color. While it feels soft, it's made tough and resistant to snags. The sleeves and bottom hem are also double-stitched to stay strong. Gildan's advanced technology, including Freshcare to resist the growth of bacteria, mold, and mildew and Aqua FX to wick moisture away, sets this T-shirt apart. Get this Gildan tee from JiffyShirts.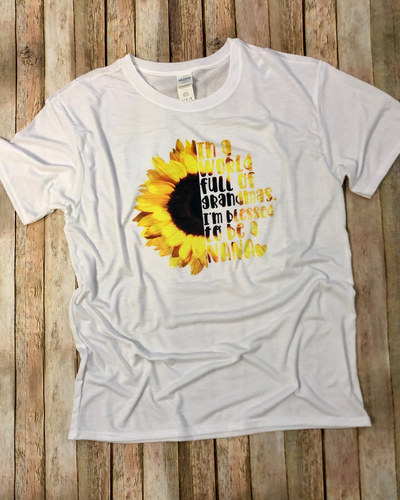 7. Team 365 TT11 Men's Zone Performance T-Shirt
Another classic tee, this Team 365 T-shirt is a top performer. Its 100% polyester interlock fabric locks in sublimation dyes. Its own cationic dye keeps the white color bright for years to come. The fabric also wicks moisture away and offers UV 40+ protection for safer fun in the sun. Pick this Team 365 performance T-shirt from our collection.
8. Sublivie 1310 White Toddler Sublimation Polyester T-Shirt
Why should adults have all the fun? This toddler tee is a pint-sized version of Sublivie's famous polyester top. Just like the adult polyester tees, they're perfect for sublimation printing and helping mini fashionistas look their best. Their moisture-wicking technology makes them ideal for toddlers who are always on the move. And because busy moms and dads don't have time to fuss with laundry, they're machine washable and can be tumbled dry on low heat. Shop for your tot's Sublivie tee today.
9. Bella+Canvas B8800 Ladies' Flowy Racerback Tank
For a chic summer vibe, look no further than this Bella+Canvas ladies' tank. Its relaxed, drape silhouette flatters any figure, while its blend of 65% polyester and 35% viscose helps you create awesome faded vintage designs. The racerback style looks great and provides a better range of motion, helping you move freely for yoga or running errands. While this tank makes the perfect casual top, you can also dress it up with a blazer for drinks with the girls. Click through to find this beautiful Bella+Canvas tank in your size.
10. A4 N3165 Men's Cooling Performance Long Sleeve T-Shirt
Who says you have to pack your T-shirts away when the weather turns cold? This classic white tee from A4 has long sleeves for extra warmth. Made from 100% polyester, you can use this tee for bold, colorful sublimation printing. Your printed design should last as long as the fabric, which features a tight knit to resist snags and reinforced hem and shoulder seams. Prepare for cooler weather with this A4 tee.
When you want to try sublimation printing, JiffyShirts makes it easy. We have a great range of shirts that suit sublimation at great prices. Enjoy a bulk discount when you spend $80. If your shirts aren't quite right, we'll organize the return for free. For shirts that showcase sublimation prints best, trust JiffyShirts.