Blog / Site Features / Shopping JiffyShirts like a Pro - Jiffy Hacks
Shopping JiffyShirts like a Pro - Jiffy Hacks
Shopping JiffyShirts like a pro makes it easy to find the best blank apparel. This Jiffy Hacks guide will help you find a cool canvas for your creations.
JiffyShirts is on a mission to provide creators, makers, and entrepreneurs with blank apparel and other items they can turn into works of art for their businesses! To help you make the most of the JiffyShirts experience, we've created this guide to shopping JiffyShirts like a Pro. Please enjoy this Jiffy Hacks guide.
Shopping JiffyShirts Like a Pro - Jiffy Hacks
On JiffyShirts.com, you'll find everything from blank T-shirts to towels. Our large product assortment features items that are ideal canvases for sublimation, embroidery, or whatever application you enjoy working with. Using this Jiffy Hacks guide, you can find the perfect canvas for your project at the right price.
Take Advantage of Automatic Bulk Discounts
Perhaps your nephew's soccer team earned a spot in the big tournament, and you want to design T-shirts to celebrate. Or maybe you're the maid of honor for your best friend's upcoming wedding, and you want to create keepsakes for the wedding party. With our automatic bulk discounts, getting what you need at a great price is easy. Our bulk discount automatically applies to orders of $80 or more. The more you buy, the bigger the discount you get. No coupon code needed!
Create an Account for Cool Perks
If you're really interested in shopping JiffyShirts like a pro, we suggest signing up for an account so you can receive free shipping on orders of $59 or more on JiffyShirts shipped items. Creating a JiffyShirts account also lets you:
Save Favorites
Add your favorite items to your account so you never have to search for them again! Simply click the heart icon next to the product image. All of your favorites will be saved in your account so you can easily access them and add them to your cart.  This feature helps you save time when you're considering a T-shirt, sweatshirt, or other product for a future project, but you're not ready to make a purchase.  Or when you find something you absolutely love and want quick access to in the future.  Sign in to your account when you're ready to buy, and all your favorite items will be waiting for you!
 2. Receive Restock Notifications
At JiffyShirts, we do our best to make sure our products are available when you want them. However, sometimes an item is so popular it flies off our warehouse shelves. Fortunately, we can restock merchandise quickly and let you know when an item you want is available. All you have to do is click the "Notify on Restock" button, and we'll add the item to your Favorites list. We'll email you as soon as the product is available for purchase.
 3. Buy it Again
Did you order a hat or tank top you love from JiffyShirts? Do you want to buy that hat or tank top again, but you forgot to add it to your Favorites list?  We've got your back if you've created an account. Sign in, go to your order history, and see all your past orders. There you can locate the desired item and simply select your color, sizes, and quantities to add the item to your cart.
 4. Save Payment Methods and Addresses
Do you ship to a few different addresses?  Maybe you like to pay with a different card sometimes?  No problem!  With an account, you can easily save multiple addresses and payment methods to your account to make checking out a breeze!   We can never see your payment methods, but they are securely stored for easy access whenever you want to use them.
 5. Put a Price Lock on Our Products
Have you ever found a product you love but aren't ready to buy yet? Then when you're prepared to make a purchase, the website shows a higher price? When you're shopping JiffyShirts like a pro, you can browse our products without pressure to make a purchase. See a polo shirt you like but aren't ready to buy? Add it to your cart, and we'll lock the price in for five days. If you decide you need four shirts instead of three, you can increase your order during the five-day price lock window.
Hide Prices
If you're an at-home entrepreneur and have a client inquiring about color options, you can show them their choices without revealing prices. Go to any product page and click "View all colors." When the color selection window opens, you'll see a "Hide prices" toggle. Click it to view a product's colors without seeing the price. You can print the page or save it as a PDF so you can send it to your clients. This feature was born directly from customer feedback, and we're happy to offer it to help your business grow.
See Similar Items
Suppose you see a T-shirt you love on JiffyShirts.com, but the color you want is out of stock. While you can always hit that restock notification button, you can also view similar items if you wish to order a shirt immediately. Simply hit the "See Similar Items" button, and we'll show you comparable products with available stock.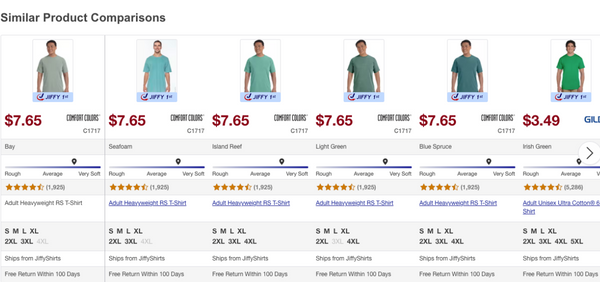 Look for the Jiffy 1st Icon
When you need an item in a hurry, we can help you out with our Jiffy 1st items. The Jiffy 1st icon means a product has the best stock, and we can get it to you in, well, a Jiffy! Fill your cart with Jiffy 1st items, and you'll receive the fastest shipping possible.
Download the JiffyShirts App
With our easy-to-use iPhone app, you can stay in the know wherever you go. When you download our app, you can sign in with your existing account information to view your order history, manage favorites, and track shipments. You can also enable real-time status notifications and use Apple Pay, Paypal, Venmo, or Klarna to buy products instantly.
Use Our Measurement Charts
At JiffyShirts, we strive to help our customers find the right products for their projects. One way we do this is by placing a measurement chart on every product page. If you're unsure what your measurements are, here's a great tip: Find your favorite shirt, lay it flat, and measure it. Compare those measurements to the measurement chart to determine which size would be best for you.
Read Review Summaries
While we think all of our products are pretty awesome, you don't have to take our word for it. On every product page, you'll find a review summary that gives you a quick snapshot of customers' ratings for fit, customization, and shrinkage. The summary also tells you about a product's primary usage, softness, quality, durability, and value.
Now that you know how to shop JiffyShirts like a pro, you're probably ready to go on a spending spree. Check out these terrific T-shirts, perfect polo shirts, and sweatshirts.